Over the last two versions we've added a number of new features and reporting options, along with correcting items from bug reports and adjustments to general usability:
The first item is a speed improvement on general reporting. We've removed all of our own intermediate reporting files, and now read all reporting files directly through the Win-EZ libraries. This means no more converting files the first time that we read them, so reports can be created faster.
We've also knocked a number of items off of the old wish list!
First is Pay Periods:
Power Reports now has settings for Pay Period (not to be confused with Pay Week). This allows you to create a defined reporting range that will automatically set the first and last date for reports. These periods can be weekly, bi-weekly, bi-monthly, and monthly. Once configured the Current Pay Period and Last Pay Period date ranges will provide a quick way to run reports for these date ranges.
Report Groups can take advantage of the Pay Period, and can be set to be run for the current or prior Pay Period based on the Today or Yesterday logic that is already available in Report Groups.
Report Groups can now be run on an Every Other Week cycle. This will allow you to send bi-weekly Punch Based Reports based on a bi-weekly Pay Period.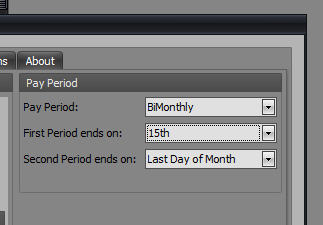 Next we added a number of additional date ranges to allow you to quickly generate historical reporting. The following ranges are available in both Standard Reports, and for Report Groups.
Week Ending
Month Ending
Year Ending
Same Date Prior Month
Same Date Prior Year
Same Day Prior Week
Same Day Prior Quarter
Same Day Of Week Prior Month
Same Day Of Week Prior Quarter
Same Day Of Week Prior Year
All of the above ranges include both Today and Yesterday options.
We also added a setting so that Report Groups can now create "By Batch" Credit Card Reports. This setting will send the last Credit Card Batch in the report list (Current Batch, or Last Closed, depending upon the timing of the report)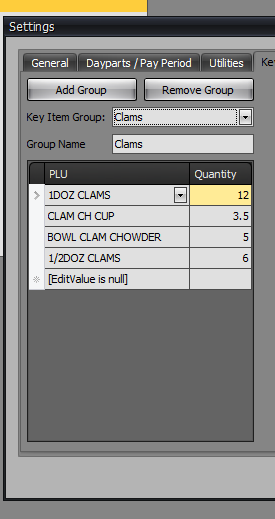 Another major feature added to the latest release is Key Items. Key Items allows you to create new groupings of PLUs, assigning each PLU in the group an arbitrary quantity multiplier. This allows you to create reports that center around inventory groups, or categories of items that use shared ingredients.
Since each Key Item group is very unique to a particular business, we don't have any stock reports, but we have included two stock layouts to allow creating summary or detail Key Item reports. You can also attach a single Key Item Group to any PLU based reports to add additional grouping and sorting data to those reports.
A sample of the Itemized version of the report:

And the Summary version:

All of the Pay Period and Date Range features are available in the 2.70.100 release of Win-EZ Manager, and the Key Item features have been released to HDS for inclusion in the 2.70.110 release of Manager due out later this week.
Next up we'll finalize the Advanced Real Time Stats Dashboard for full release, and get to work finishing the web based Real Time Stats Dashboard so that you can get your info everywhere!
0 Comments